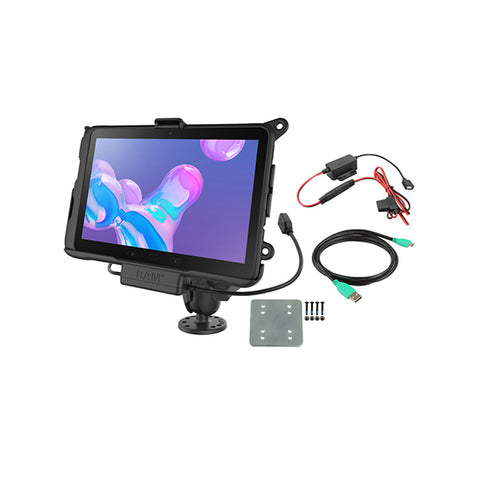 RAM® Power & Data Mount for Samsung Tab Active Pro with Backing Plate (RAM-101-B-SAM52PD-V7BU)
This Samsung Tab Active Pro kit includes everything you need to keep the device powered and secure. It includes the RAM® EZ-Roll'r™ powered/data cradle, C size double ball mount with two round plates and short double socket arm, backing plate adapter, GDS® modular hardwire charger, GDS® USB 2.0 cable, and cable clamp.
The RAM® EZ-Roll'r™ powered/data cradle for the Samsung Tab Active Pro features integrated pogo pins that power the device. These pogo pins are compatible with both the RAM® Skin™ for the Tab Active Pro and the factory Samsung skin that's included with the device. In addition, this cradle works perfectly with the RAM® Skin™ while utilizing the GDS® HandStand™ or GDS® shoulder strap. While keeping the Tab Active Pro secure, the RAM® EZ-Roll'r™ powered cradle also leaves the device's speakers, mics, headphone jack, and NFC reader exposed and usable. For mounting, pair the cradle with RAM® round ball bases. Includes a Type-A female pigtail connector for data or to connect a USB peripheral such as a scanner.
GDS® Specifications:
Input Range: 8V - 40V DC
Output Voltage: 5VDC
Output Current: 2.5A max
Output Connector Type: Female USB Type A
Input Cable Length: 1.2 Meters overall length including 2 Pole Flat Marine Connector
Output Cable Length: .2 Meters
Operating Temperature Range: -10°C to +70°C
Storage Temperature Range: -40°C to +70°C
Overvoltage/Load Dump Compliance: Meets SAE J-1113
Integrated Short Circuit Protection (SCP)
FCC, Industry Canada, CE, WEEE, RCM, e-Mark and RoHS Compliant
USB 2.0 BC 1.2 DCP Support
Features & Specs:
Material:Powder Coated Marine Grade Aluminum
Ball Size:C Size 1.5" Rubber Ball
Note:The "U" in the part number reflects product packaged in poly bag.
Warranty Status: 3 year warranty
Package Content:
Contains 1 x RAM® Power & Data Mount for Samsung Tab Active Pro with Backing Plate (RAM-101-B-SAM52PD-V7BU)
---
We Also Recommend