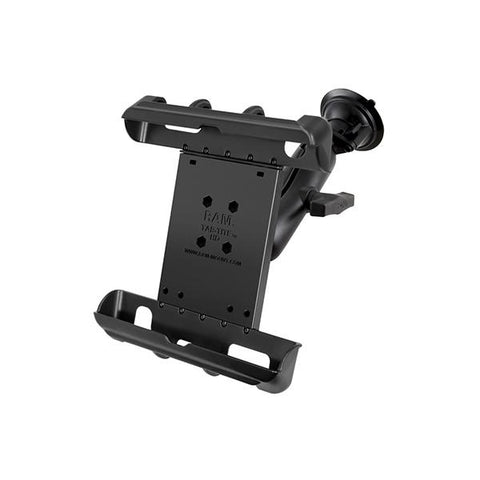 RAM® Tab-Tite Large Tablet Mount with RAM® Twist-Lock Suction Cup (RAM-166-TAB17U)
The RAM-B-166-TAB17U consists of a 3.3" diameter suction cup twist lock base with 1.5" dia. ball, double socket arm, round base adapter and Tab-Tite universal clamping cradle. The suction cup base is designed to have a strong hold on glass and non-porous plastic surfaces.
The spring loaded Tab-Tite cradle makes it easy to load and unload your tablet, along with keeping it secure while on the go. Interchangeable cup ends are designed to optimize the functionality of your tablet, allowing access to audio jacks, usb, power, and other ports, your tablet can be used just as it was intended. The Tab-Tite cradle is compatible with any tablet that will fit the dimensions listed below. It is important to verify the dimensions of your tablet when determining the overall size.

Compatible Devices
:
Apple: iPad (1st Generation) with Case, iPad 2 with Case, iPad (3rd Generation) with Case, iPad (4th Generation) with Case, iPad Pro 11" with Case
Dell: Venue 10 7000 with Case
Google: Nexus 10 with Case
HP: ElitePad 900 G1 with Case, Pro 610 with Case, Pro Slate 10.1 with Case
Lenovo: S6000 with Case, Yoga Tablet 2 (10 inch) with Case
Specs & Features
Cradle Dimensions:


Weight: 1.48 lbs.
Materials: High Strength Composite and Powder Coated Marine Grade Aluminum
Ball Size: C Size 1.5" Rubber Ball
Note: The "U" in the part number reflects product packaged in poly bag.
Package Contents
1 x RAP-224-1U
1 x RAM-138U
1 x RAM-HOL-TAB17U