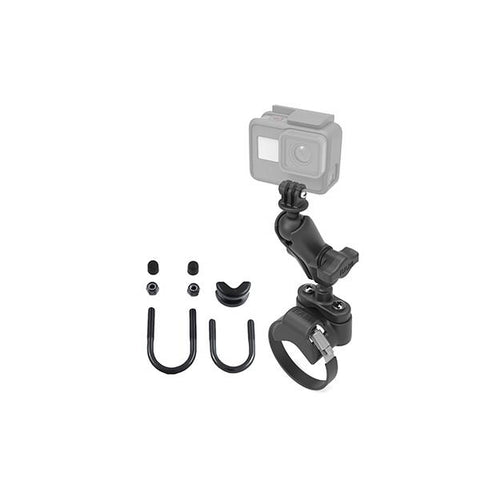 RAM® ATV/UTV Handlebar U-Bolt Mount with Action Camera Adapter (RAM-B-149Z-2-GOP1U)
The RAM-B-149Z-2-GOP1U consists of a steel strap base, u-bolt bases, double socket arm and 1" diameter ball with custom GoPro® Hero adapter.
The mount is designed with a RAM 1" diameter patented rubber ball and socket system that has adjustment points at both ends of the double socket arm; this allowing for almost infinite adjustment and perfect viewing angles. Designed for a clean installation, the RAM strap mount will accommodate most common roll bar sizes, allowing for the placement of the RAM rubber ball base. This mount can also be attached to smaller diameter handlebars on ATVs using the included hardware. The GoPro® Hero adapter attaches directly to the under-side of the camera, replacing the factory mounting bracket.

Compatible Devices
:
GoPro: Hero, Session
Garmin: Virb
SJCAM: SJ4000, SJ5000X Elite 4K
Muvi: veho K-Series K-2 Pro 4K
Xcel: 1080C
Vivitar: HD
ACTIVEON: CX Gold
Discovery: Kids Photo & Video Adventure Camera
Kyocera: / Yashica YAC-400
AEE: ACE S70 Black 16MP 2"
AKASO: EK7000 4K WIFI Sports
AEDILYS: 4K WIFI Sports
Lightdow: LD4000 1080P HD
WiMiUS: Q2 Black 1080P Wifi
Vtin: 4k, WiFi
Specs & Features
Clamp Range: U-Bolt: .5" - 1.25" diameter, Strap Clamp: 1.57" - 3.15" diameter
Socket-to-Socket Length: 3"
Weight: 0.8 lbs.
Materials: Marine-grade aluminum, High strength composite
Ball Size: B Size (1")
Package Contents
1 x RAM-B-231Z-2U
1 x RAP-B-202U-GOP1
1 x RAM-B-201U