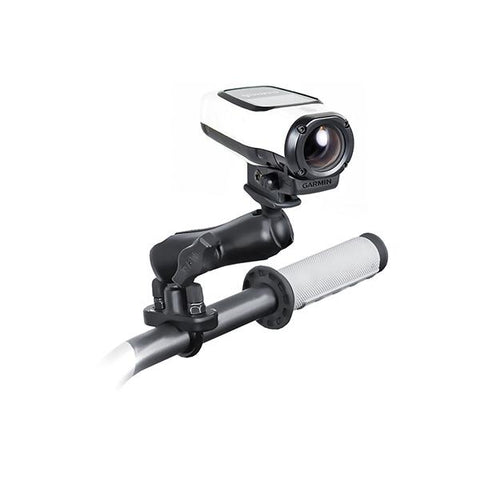 RAM® Handlebar U-Bolt Double Ball Mount for Garmin VIRB Camera Adapter (RAM-B-149Z-GA63U)
The RAM-B-149Z-GA63U consists of a zinc coated u-bolt base, double socket arm and custom Garmin VIRB camera adapter. Included in this package is hardware that will accommodate rails from 0.50" to 1.25" in diameter. The base includes black cover caps to be placed over the exposed ends of the u-bolt.
The included composite rail adapter can narrow the rail to a minimum width of 0.5". The mount is designed with a RAM 1" diameter patented rubber ball and socket system that has adjustment points at both ends of the double socket arm; this allowing for almost infinite adjustment and perfect viewing angles. The adapter attaches directly to the under-side of the camera, replacing the factory mounting bracket.

Compatible Devices
: Garmin VIRB
Specs & Features
Clamp Range: .5" - 1.25" diameter
Socket-to-Socket Length: 3"
Weight: 0.6 lbs.
Materials: Marine-grade aluminum, High strength composite
Ball Size: B Size (1")
Package Contents
1 x RAM-B-201U
1 x RAM-B-202U-GA63
1 x RAM-B-231ZU