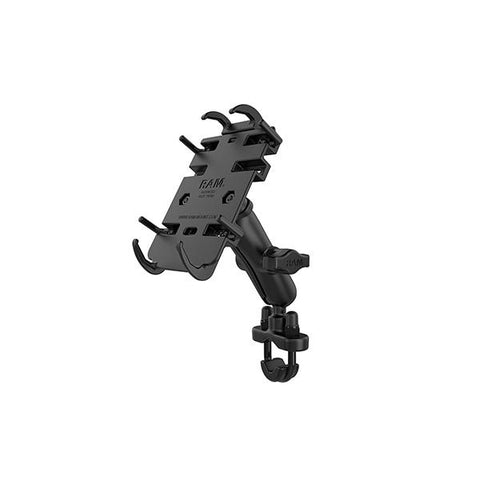 RAM® Quick-Grip Phone Mount with Handlebar U-Bolt Base (RAM-B-149Z-PD3U)
The RAM Quick-Grip Handlebar Mount consists of a zinc coated u-bolt base, double socket arm and spring loaded cradle for supporting most phones. Included in this package is hardware that will accommodate rails from 0.50" to 1.25" in diameter.
The base includes black cover caps to be placed over the exposed ends of the u-bolt. The included composite rail adapter can narrow the rail to a minimum width of 0.5". The mount is designed with a RAM 1" diameter patented rubber ball and socket system that has adjustment points at both ends of the double socket arm; this allowing for almost infinite adjustment and perfect viewing angles.

Compatible Devices
:
Apple: iPhone 6s, iPhone 7, iPhone 8, iPhone SE, iPhone X, iPhone Xs, iPhone 11 Pro
Google: Pixel
LG: K3, K3 2017, K8 2017, Phoenix 3, Q6, Rebel 2 LTE, Rebel 3 LTE, Risio 2, Tribute Dynasty, Tribute HD, Zone 4
Motorola: moto e4, moto X2
Nokia: 1, 2, 3, 230, 8 Sirocco, 8110 4G
Samsung: Galaxy A3, Galaxy A3 (2016), Galaxy A3 (2017), Galaxy A5, Galaxy A5 (2016), Galaxy A40, Galaxy AMP 2, Galaxy AMP Prime, Galaxy AMP Prime 2, Galaxy E5, Galaxy Express 3, Galaxy Express Prime 2, Galaxy Grand Neo Plus, Galaxy J1, Galaxy J1 (2016), Galaxy J2, Galaxy J2 (2016), Galaxy J2 (2017), Galaxy J3 (2016), Galaxy J3 (2017) International, Galaxy J3 Emerge, Galaxy J3 Prime, Galaxy J3 V, Galaxy J5, Galaxy Luna, Galaxy On5, Galaxy S5, Galaxy S5 Neo, Galaxy S6, Galaxy S6 Edge, Galaxy S7, Galaxy S10e, Galaxy V Plus, Galaxy Xcover 3, W2017, Z2, Z3, Z4
Sony: Xperia X, Xperia X Compact, Xperia X Performance, Xperia XA, Xperia XA2, Xperia XZ, Xperia XZ1 Compact, Xperia XZ2 Compact, Xperia Z5 Compact
Specs & Features
Hardware Included: Assembly Hardware , (1) 1/4"-20 x 1.75" U-Bolt , (1) 1/4"-20 x 2.5" U-Bolt , (2) 1/4"-20 Nylock Nuts , (2) Rubber Caps , (1) U-Bolt Spacer
Holder Dimensions: Height Range: 4.75" - 5.75", Width Range: 2.19" - 3.25", Max Depth: .72"
Clamp Range: .5" - 1.25" diameter
Socket-to-Socket Length: 3"
Ball/Socket Size: B Size (1")
Weight Capacity: 2 lbs
Weight: 0.75 lbs.
Materials: Marine-grade aluminum, High strength composite
Package Contents
1 x RAM-HOL-PD3U
1 x RAM-B-149ZU