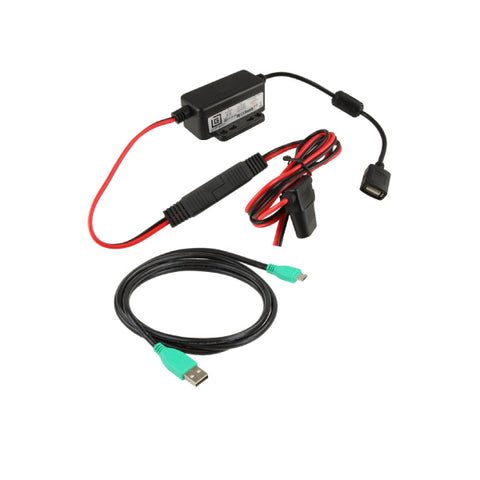 GDS® Modular 10-30V Hardwire Charger with mUSB Cable (RAM-GDS-CHARGE-MUSB-V7B1U)
---
RAM-GDS-CHARGE-MUSB-V7B1U
---
The GDS® Modular Hardwire Charger with mUSB cable is the ideal solution for providing power to any GDS® vehicle solution. With the quick disconnect feature, easily connect any USB Type A charging cable. When it comes time to upgrade, avoid any rewiring by simply unplugging the power connector and attaching the new charger components. Compatible with any 5V device with a current requirement of 2.5A or less.
Hardwire charger includes USB 2.0 cable with USB Type-A male connection and mUSB male connection
When upgrading devices, avoid rewiring by unplugging the power connector and attaching new charger components
Part of the GDS® Ecosystem™ to keep devices protected, connected, and charged in nearly any application
Backed by a 3-year warranty
Features & Specs:
Input Voltage: 10V - 30V DC
Output Voltage: 5-9VDC*
Output Current: 2.5A max
Input Connector: mUSB 2.0 Female
Input Cable Length: 1.2 Meters including 2 Pole Flat Marine Connector
Output Cable Length: 2 Meter
Operating Temperature Range: -10°C to +70°C
Storage Temperature Range: -40°C to +70°C
Compliance: Over Voltage Protection, Short Circuit Protection, Reverse Polarity Protection, RoHS Compliance, WEEE Compliance, SAE J-1113-5 Load Dump (Transient Voltage), Moisture Resistant
Certifications: CE Certification, e-Mark Certification, RCM Certification, FCC Certification
Warranty: 3 year warranty
Additional Information: *5V output is by way of USB 2.0 BC1.2 and DCP mode. 9V output is by way of AFC and QC 2.0.
Weight: 0.4 lbs.
---
We Also Recommend