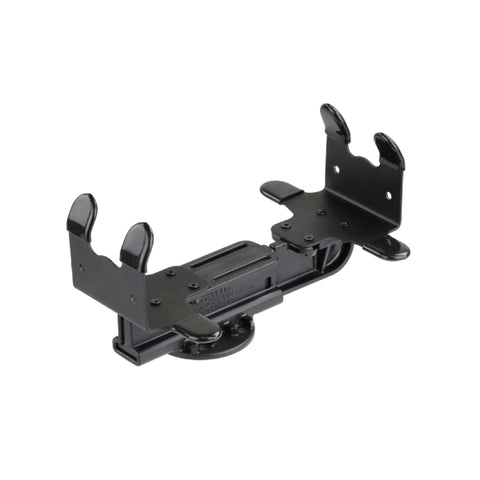 RAM® Quick-Draw™ Jr. Universal Small Printer Holder (RAM-VPR-104)
The RAM® Quick Draw™ Jr. holder uses a unique patent pending spring loaded mechanism that holds strong, yet provides easy removal for printer storage. At each end of the cradles are side clamping plates that are designed to fit cleanly around the edges of a printer.
Specs & Features
Holder Dimension Max Height: 1.75"
Holder Dimension Width Range: 5.625" - 9.5"
4-Hole AMPS: 1.181" x 1.496"
Materials: Powder coated steel, High strength composite
Weight: 0.77 lbs.
Compatible Printer Devices:
Fujitsu: FP-100, FP-1000
Datamax-O'Neil: RL3E, RL4e
Bixolon: SPP-R400
Brother: Mobile RuggedJet 3050
Zebra: QLn220, QLn320, QLn420, RW420, ZQ510, ZQ511, ZQ520, ZQ521, ZQ610, ZQ620, ZQ630
Package Content:
1 x RAM® Quick-Draw™ Jr. Universal Small Printer Holder (RAM-VPR-104)
---
We Also Recommend